Case & Bag Palletizers / Depalletizers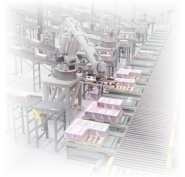 SEI Equipment designs standard and customized palletizing systems that can increase productivity and save you money. SEI's modular design offers flexibility, high throughput, and simple operation. Our robot palletizing systems are flexible and can handle virtually any product, including single, dual or multiple parts, rigid or heavy cases, bags, newspapers, cartons cases, bundles, pallets, pails, totes or trayed products.
Our proven designs come with guaranteed handling rates and safety features that are both fast and reliable. SEI utilizes four to six-axis Motorman robotic arms in our systems due to their overall flexibility, user-friendly set-up, reliability and extensive service and parts network.
Features:
Long intervals of operation without intervention
Up to 20 cycles per minute case palletizing
Up to 27 cycles per minute bag palletizing
Widest working envelope in its class
High reliability -62,000 hours MTBF
Our robots have the largest vertical reach in their class
Several mechanical and vacuum grippers for variety of handling applications
Small footprint reduces floor space
Multiple robot control, simplifies programming and eliminates cable interference
Industry-leading +0.5mm (+0.02") repeatability
High-performance path accuracy and vibration control
Web server that allows remote monitoring and diagnosis (optional)
MotoMax III three year warranty