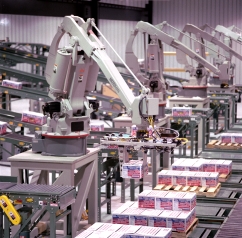 Robotic Packaging
SEI Equipment Corporation designs and builds robotic packaging and palletizing systems that can complete complex tasks such as packaging, palletizing, depalletizing and order picking, that previously required vasts amount of manpower. SEI offers reliable and efficient solutions that are customized to our customer's needs and product requirements. SEI Equipment also offers systems of unrivaled flexibility and reliability that can be freely adapted, again and again, to new or modified products. SEI robotic systems makes complex packaging and logistical tasks more accurate and productive - in particular arduous or monotonous processes that place a heavy burden on the workforce.
Advantages of SEI Robots vs. Conventional solutions
High repeatablility and precision

Continous operation, 365 days a year

Simple reprogramming and operation

Greater output per hour with consistently high quality

Higher quality compared with traditional methods

Flexible Adaptation to changing processes

Integrated sensors enable complex work processes

Reduced Workload for employees and lowers risk of injuries

Higher processing Speed than semi-automated or manual process

Broad Product Range to cover an extremely wide range of requirements, payloads and reaches
Justification for Using Robots as Found in Companies That are Using Robots
1. Reduced Labor Costs
2. improved prodcut Quality
3. Elimination of dangerous jobs
4. Increased output rate
5. Increased product flexibility
6. Reduced material waste
7. Compliance with OSHA regulations
8. Reduced labor turnover
9. Reduced capital cost
| | | | |
| --- | --- | --- | --- |
| | | | |
| Bag Palleitzing System | Tray Packing System | Case Palletizing Systems | Case Packing Systems |

Robots for Small Business: A Growing Trend
Many people assume that the majority of robot customers are in larger, more traditional industries. ...
more
Robots: Flexible Automation for a Strong Economy
Just how should American manufacturing react to the cheap foreign labor available overseas? Many people have answered this question. ...more
How to Compete with Offshore Low Labor Costs: Employ Highly Skilled Labor at 30 Cents per Hour
How would you like to hire an extremely skilled laborer for 30 cents per hour? A laborer that works 24 hours a day, 7 days a week, 52 weeks a year? Good news ...more
Robotics in Packaging Application Developments and Success Factors
The use of robots in packaging
. ...
more
Will You Still Be in Business 10 Years From Now? The answer may depend on your automation strategy.
Future labor shortage … a manufacturing dilemma
.
more