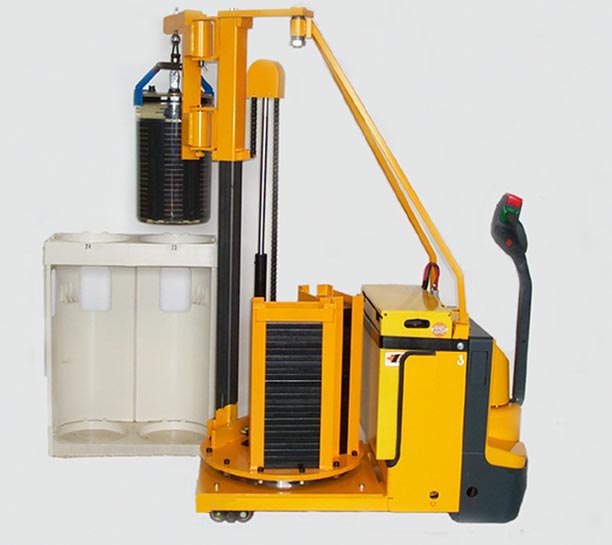 Battery Hauler: Unit designed to travel down narrow aisle ways and remove Large Cell batteries from a string.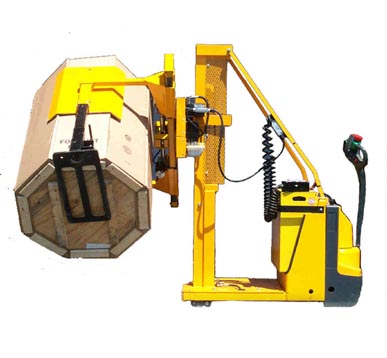 Custom Jaws for handling various size cartons and boxes. Unit has Power lift, travel, clamping and rotation.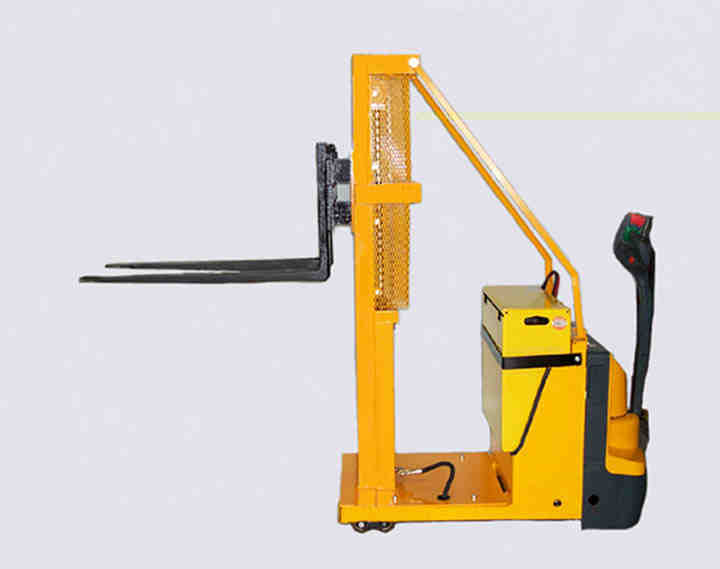 Need a small forklift? Only 27" wide Powered Transporter. Counterbalanced for racking abilities. 1,000 pound capacity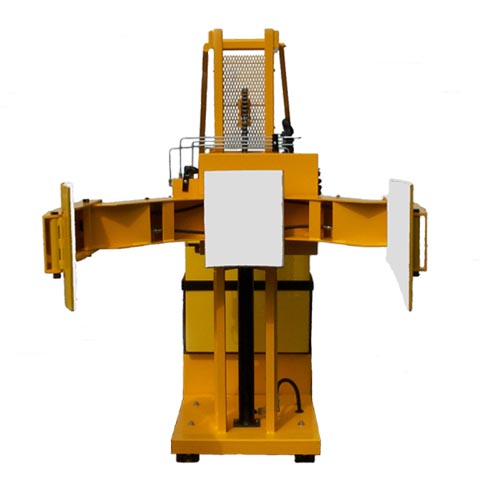 RH8004840RCR: Special unit for handling diameters up to 40". 3-Piece jaw system with rubber lined jaws allowing for excellent clamping of all materials. 360 degree left/right rotation.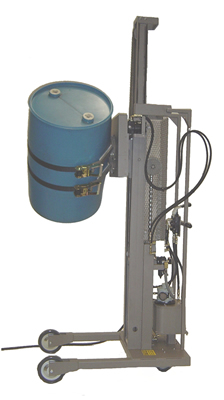 Easy Lift Drum Dumper
Model # ED100096-A-SR-SP. With a total lift height of 96" inches (to bottom of drum), Air powered lift, rotation & FDA Powder Coating; the Easy Lift Dumper is perfect for your classified areas. With the double 2 inch nylon straps the unit can handle virtually any type or size drums.
Models available with lower lift height and explosions proof scales.
Please contact us with your custom needs.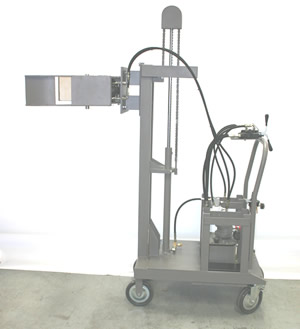 Air Powered Lift, Rotation and Clamping
Excellent for Classified Areas where DC nor AC power can be used. Simply run an airline to this unit and lift, rotate, and clamp virtually any drum. Other units on the market today require you to ratchet strap the drum in place which eliminates them from removing the drum from the pallets. When there are 4 drums on a pallet they are almost always butted together. This means the operator must first roll the drum off the pallet to engage the strap. Not this unit! With the pull of a lever you can clamp various size drums without interrupting other drums.
The counterbalanced design is perfect for reaching over hoppers and tanks allowing it to work with strategic dumps. Additional counterweights can be added bringing the capacity to 800 pounds. Call for more details.
Custom Jaws
Handling something odd?
Customers occasionally bring us jobs that require custom work. In most cases its not very much different from what we have already. With a power clamping jaw system mounted on a counter balanced unit like the Drum Hauler our possibilities become endless. Whether you are lifting square boxes, pumps machinery, or kettles we may be able to help.